Nollywood actress and dancer, Cossy Orjiakor has taken time to lecture a social media user who questioned her choice of outfits while preaching.
The busty actress had shared a video of herself on her Instagram page preaching the word of God while holding a bible.
A social media user however took to the comment session to criticize Cossy for not wearing a top and revealing her breasts.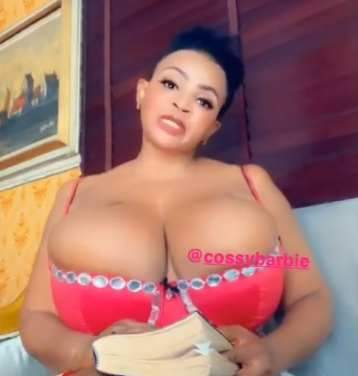 He wrote;
"You are mocking God. Jesus never preached half naked when he was on earth. The bible you are holding you don't even know what God says concerning your lifestyle. Am not. Judging, truth must be told."
In reaction, Cossy Orjiakor wrote;
"Who is Mary Magdalene … the apostle to the apostles.. the vain woman that was the first to see Christ when he ressurected Why do u see God as one big oracle … he is simple ur grandfather the father to your father ….so relate to him as much ….u don't need strangers (pastors…apostles… reverend fathers … dibia ) for such family issues talk to ur grand daddy."